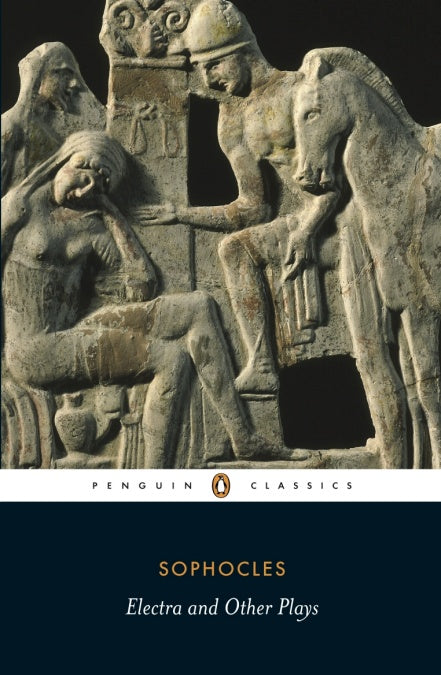 Electra and Other Plays by Sophocles
Regular price
£8.99
Sale price
£5.00
/
---
Worldwide shipping available
Low stock - 7 items left

Inventory on the way
Demonstrating Sophocles' aptitude for humanising figures from Greek myth and transforming simple fables into complex high tragedy, Electra and Other Plays is translated by David Raeburn with an introduction and notes by Pat Easterling.

The plays collected in this volume show Sophocles' ability to create complex human characters struggling with profound moral issues. In Women of Trachis the agonizing death of the mighty Heracles is brought about by a tragic mistake made by his jealous wife Deianeira, as she attempts to regain his love. Set in the aftermath of the Trojan War, Ajax depicts a warrior driven into a homicidal rage that leads to his undoing, and Electra shows the grief-stricken children of the murdered Agamemnon and their plot to avenge him, while Philoctetes portrays the cunning Odysseus' attempt to convince a famed archer to rejoin the Greek expedition against Troy, undermined by the honesty of his young comrade Neoptolemus.

David Raeburn's translation captures the rhythms of the original Greek, while remaining accessible to modern readers. Pat Easterling's general introduction discusses Athenian dramatic festivals, and the structure and tensions of the plays and their characters. This edition also includes a chronology, further reading, prefaces to each play and notes.

Sophocles (496-405 BC) was born at Colonus, just outside Athens. His long life spanned the rise and decline of the Athenian Empire; he was a friend of Pericles, and though not an active politician he held several public offices, both military and civil. The leader of a literary circle and friend of Herodotus, Sophocles wrote over a hundred plays, drawing on a wide and varied range of themes, and winning the City Dionysia eighteen times; though only seven of his tragedies have survived, among them Antigone, Oedipus Rex, Ajax and Oedipus at Colonus.
Publisher: Penguin Books
Paperback: 368 pages
Dimensions: 198 x 129 mm
Standard Shipping:
Collection - FREE
Royal Mail Tracked 48 - £5
Royal Mail Tracked 24 - £10
UPS - £12
Europe - £35
Worldwide - £45
Artist Editions and Framed Prints attract higher shipping costs. You can see them here.