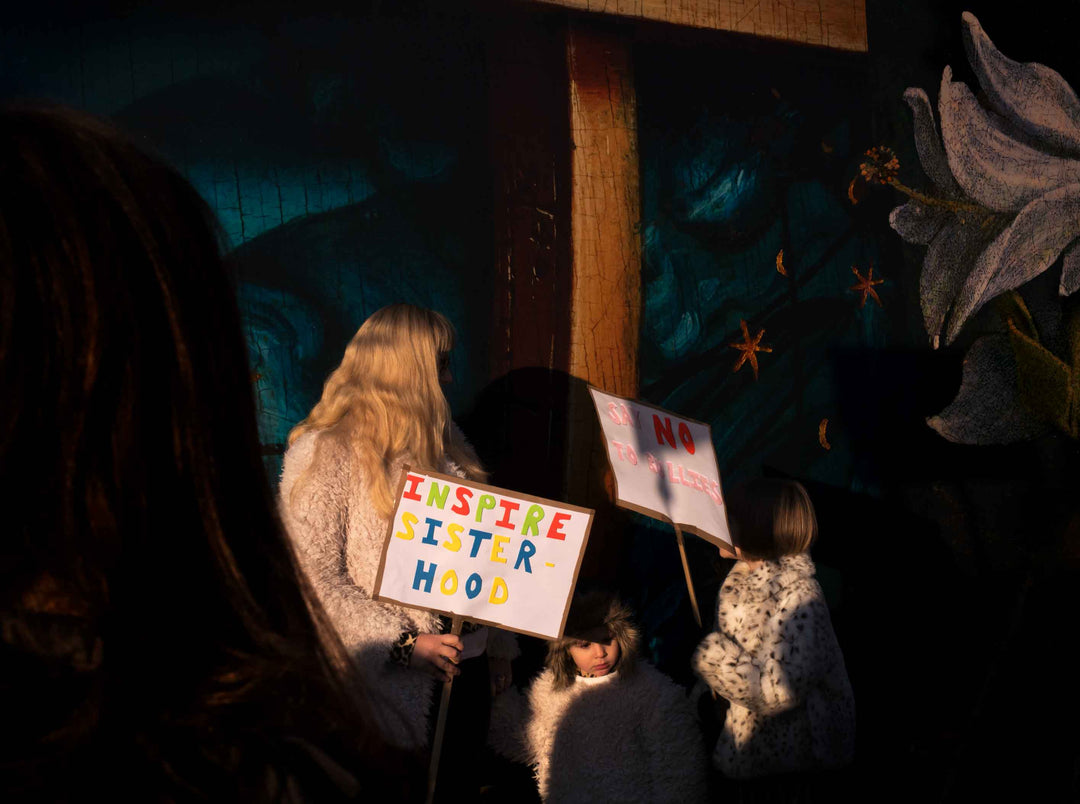 Hannah Starkey: Inspire Sisterhood, 2022
---
Worldwide shipping available
In stock, ready to ship

Get in touch to enquire about restocks
Hannah Starkey
'Inspire Sisterhood', Women's March, London 2017, 2017
C-type Photographic Print
342 x 455 mm
Edition of 50 (plus 7 artist proofs)
Signed and numbered by the artist
Going to the Women's March was a watershed moment for me. I was very emotional and excited. It was a high! The atmosphere and the fact that women were standing up and men were standing up with them. You realised that you're not on your own and I felt this sort of solidarity and freedom and total excitement with photography. Images were coming at me in a rate that I couldn't possibly capture or process fast enough. This was a place full of women, and they all wanted to be photographed. They wanted to be seen. They'd made these beautiful signs. They were angry. There was a collective sense of asking "why are all these women feeling like this?"  - Hannah Starkey

'Inspire Sisterhood', Women's March, London 2017, 2017 was taken by British artist Hannah Starkey at the 2017 Women's March in London. Around this time, Starkey's work took a decisive turn towards addressing political movements and representations of women's activism. Inspired by protest marches taking place around the world, the artist began to photograph women as they took to the streets. Diverging from her usual practice of carefully staging her photographs, here Starkey immerses us in the real-time activity and language of communities that form through collective action. Rather than capturing the bustle of the huge crowds, Starkey offers moments of stoic solidarity as placards and banners speak the truths of the women holding them
This work has been generously produced as a limited edition by British photographer Hannah Starkey for The Hepworth Wakefield. It is also shown as the original larger-scale photographic work in the exhibition Hannah Starkey: Real Life, the first major survey of Starkey, on display at The Hepworth Wakefield, 1 October 2022 - 30 April 2023.
As is traditional in edition publishing, the price of the work will increase as the edition sells out.
 For more information call the Editions Team on +44 1924 247388 or email editions@hepworthwakefield.org
Standard Shipping:
Collection - FREE
Royal Mail Tracked 48 - £5
Royal Mail Tracked 24 - £10
UPS - £12
Europe - £35
Worldwide - £45
Artist Editions and Framed Prints attract higher shipping costs. You can see them here.