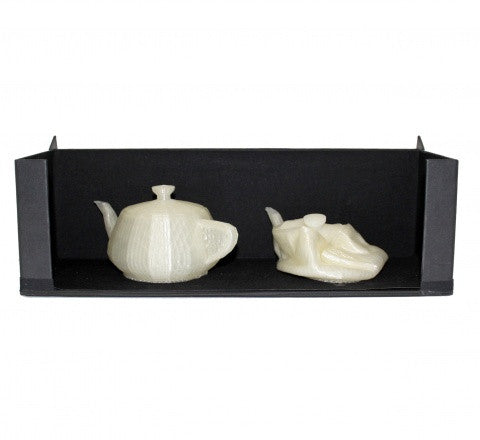 Toby Ziegler: Method Acting
---
Worldwide shipping available
In stock, ready to ship

Get in touch to enquire about restocks
Method Acting, 2014
Edition of 20

Signed and numbered by the artist
Materials: 3d printed polymer, cardboard and fabric tape
Dimensions: box: 15 x 33 x 15 cm, teapot: 8.5 (h) x 16.5 (w) including spout and handle, melted teapot: dimensions variable
Method Acting is a limited edition sculpture by international contemporary artist Toby Ziegler. The piece is made up of two Newell teapots originally created by a 3d printer using a plastic polymer. Ziegler has moulded one of the teapots, using hot water to melt the piece, highlighting the incongruity of the material and exploring his interest in the reproduction of objects and images.
The teapots are presented in a handmade presentation box, made at the artist's studio and signed and numbered by the artist.

The teapots and 3d printer are an integral part of Ziegler's installation No Man's Land, commissioned by The Hepworth Wakefield. No Man's Land centres on the World War One frieze by Charles Sergeant Jagger from our permanent collection but also incorporates an oversized sculpture of a human foot in cardboard. The 3d printer acts as a base for an aluminium structure literally holding all the elements together.

The printer creates a teapot for each day of the exhibition, referencing ideas of the, potentially, endless reproduction of images and objects in the digital age. Ziegler's oeuvre often references 'war porn' and the bombardment through the media of war images. The ease of endless reproduction of these images can render them, and the ideas behind them, meaningless and the viewer desensitised.

The Newell teapots are reproduced in plastic, making them unable to hold hot liquids and are thus useless as teapots. They serve as a further illustration that the process of digitising an object or physical situation and the subsequent attempt to recreate the object or image loses its original meaning or use and is therefore futile.

The design of the teapot was initially developed in 1975 by computer graphics researcher, Martin Newell. The mathematical model was originally a test card for early graphics software and continues to be used to this day.
Toby Ziegler: Expanded Narcissistic Envelope was on display at The Hepworth Wakefield 13 Sept - 16 Nov 2014
(Price inclusive of VAT)

Standard Shipping:
Collection - FREE
Royal Mail Tracked 48 - £5
Royal Mail Tracked 24 - £10
UPS - £12
Europe - £35
Worldwide - £45
Artist Editions and Framed Prints attract higher shipping costs. You can see them here.